Little Red App Breeds User Generated Content Unlike Other Social Media Platforms
The Little Red App is yet another term for The Little Red Book aka Xiaohongshu, a social e-commerce platform that local Chinese and international brands are obsessed with. The platform is a portal for Chinese consumers, especially women with aspirational demands for global products in the fashion, beauty, health and technology sector. If you aren't familiar with the platform and what it does, click here to catch up.
The social e-commerce platform that started off as a mere review-oriented portal, has grown exponentially as one of the most successful start-ups worth 3 billion USD today. We also believe Xiaohongshu started the whole social e-commerce trend by offering a 'safe place' for like minded consumers to share reviews and shop simultaneously on the platform.
If you as a brand have to break through the noise and stand out as a promising entity, you have to compete with brands like Chanel, Hugo Boss, Lancôme, Swisse, Innisfree and Colourpop. These have taken 10 steps ahead and made themselves at home on the platform and now its your turn.
Before we dive into understanding the type of content you as a brand need to create on the little red app, let's hop onto the user's perspective and evaluate the way he/she uses navigates the platform.
Xiaohongshu Is A Product Discovery And Recommendation Search Engine
Brands need to stop focusing on Xiaohongshu as an e-commerce platform and start thinking of it like a product discovery and recommendation search engine.
In recent months, the company has clearly indicated that e-commerce is not their main focus. In public interviews, representatives refer to the platform first and foremost as a social recommendation platform, not as an e-commerce platform.
In many ways, the user behaviour and format are similar to Pinterest, with users searching for key terms or specific items they are interested in. If they find something they like, they can save it to a board and refer to it later. As users search for and engage with certain types of posts, the platform's algorithm will immediately customize their feed to show similar posts. At the bottom of the posts, users can scroll down to find recommended similar posts.
1. Explore
This feature just like Instagram and TikTok lets users explore the most trending content on the platform. The user begins with this section that will then lead him/her onto the next steps.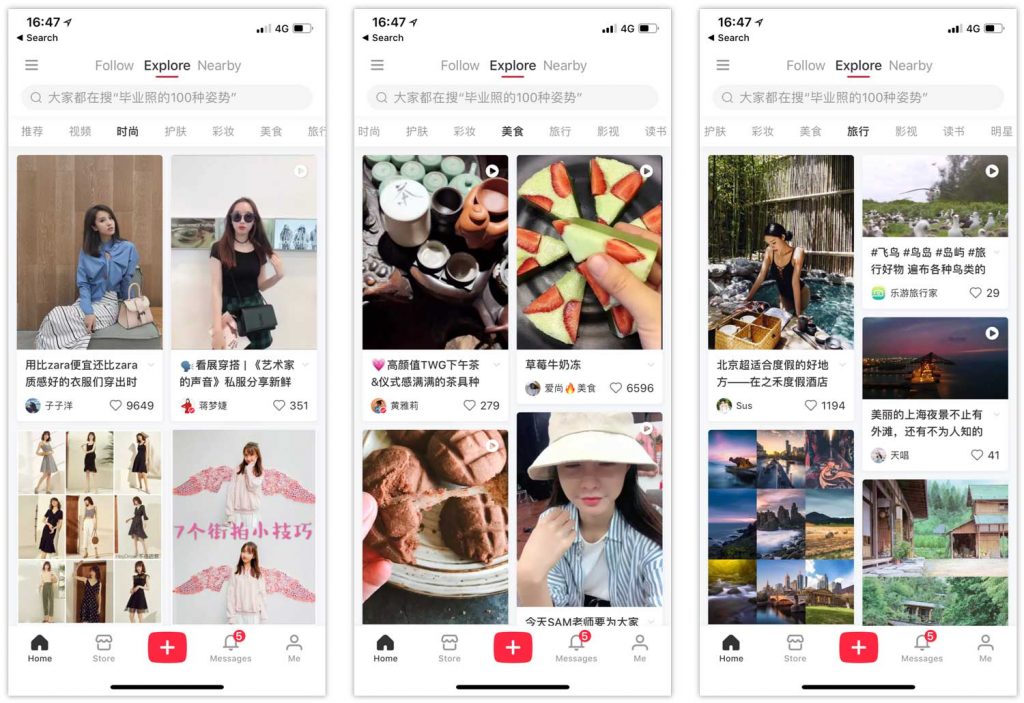 2. Nearby
The Little Red Book has segregated its content as per location and then suggests 'notes' accordingly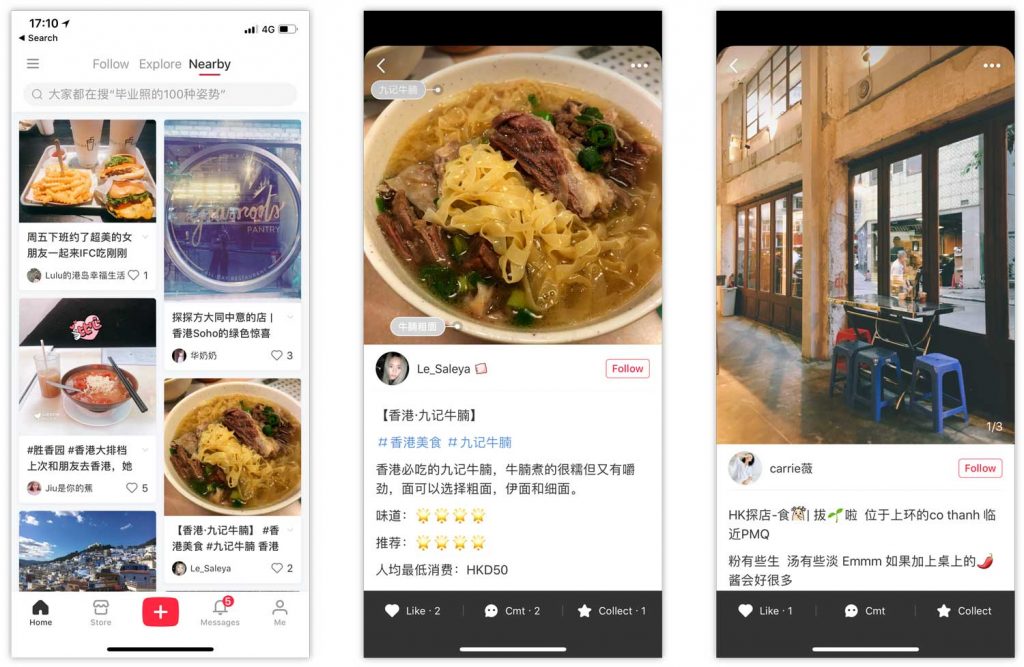 3. Follow
This is where users can follow KOL accounts to access their 'notes'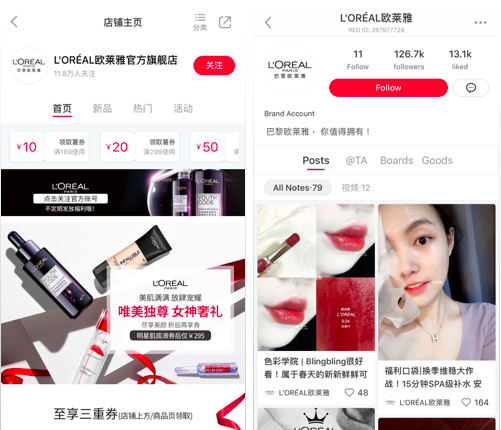 4. Brand
If a user is curious about exploring a brand, they can type in the brand name and wait for posts to show up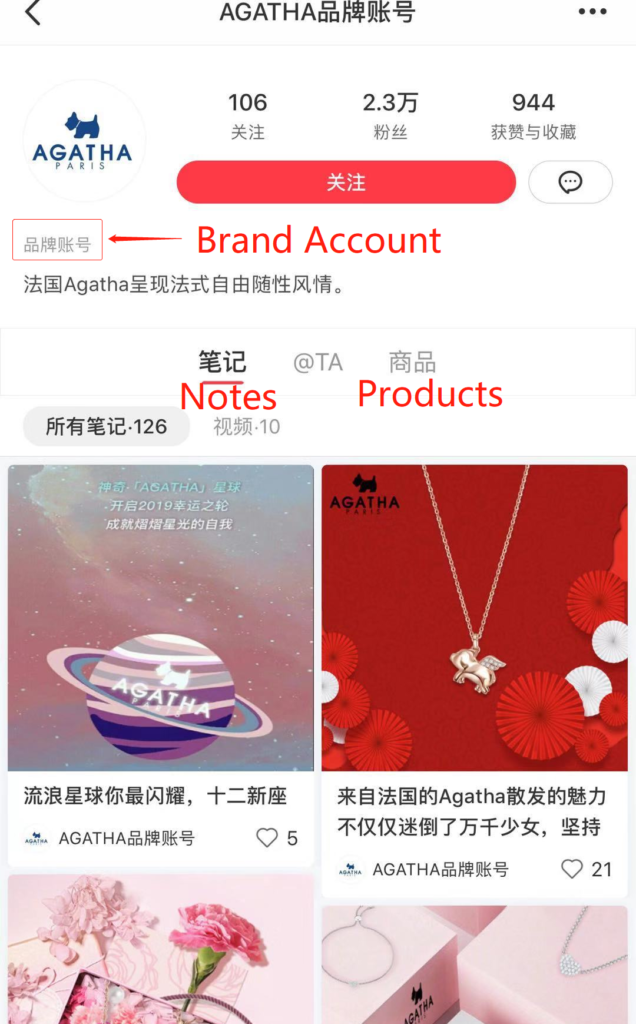 How To Create Content On The Little Red App:
As a platform constructed of User Generated Content (UGC), consumers view it as a reputable source for product reviews. Influencers produce articles and videos commenting on things they have tried and recommend it to their followers. Little Red Book covers a wide variety of topics, but content related to Cosmetics and Fashion still remain the top 2 popular subjects among consumers.
1. Detailed User Generated Engagement
According to many sources trying to establish themselves on the platform, the quality of engagement remains high, as readers often write paragraph-long comments, sharing their experiences related to the topic of the post. Many others ask questions and share their experiences with products to guide the community with authentic exposure.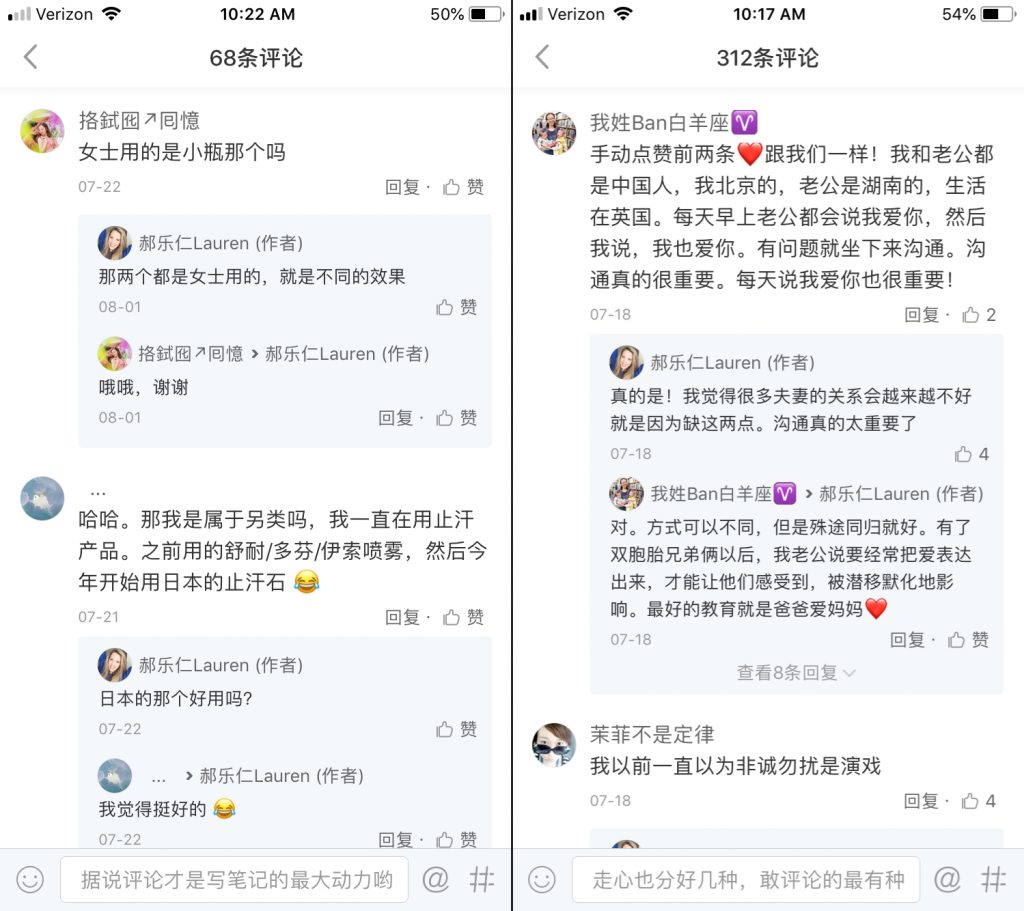 2. Informative Posts
Since the platform is basically Pinterest x Instagram x Amazon, the users want it all right from the pictures to authentic product descriptions and reviews. Although more traffic is being given to celebrities and top Xiaohongshu KOL accounts, it is still possible for new accounts with high-quality content to grow organically.
3. How To Create Your Posts
-Title
The title should be 10-15 words long which refine the key points of the "Note". If the note is about product recommendation, put the unique selling points and function of the product in the title.
-Photos
Each "Note" in Xiaohongshu can include up to 9 images, and ideally with no less than 5. The general rules is, the more images the better. On Little Red Book, the genuineness and authenticity of the images are important, so it is fine if they appeared a bit unpolished. The first image is the cover image that users will see when scrolling through their feed – it must be eye-catching and attractive. In addition,  you can arrange the images to follow a certain logic, for example, comparing before to after, or starting from step 1 to step 4 etc.
-Videos
Videos is the godfather of content on almost every platform and it is here to stay. As an alternative to images, users can post 1 video in each of the note and like any other platform, you must keep in mind that Little Red Book always gives preference to video content.
-Captions
Not only informative, detailed and useful content is fundamental to win followers' heart and mind in Little Red Book, you should also pay attention to the caption's character limit. Each caption contains a limit of 1,000 characters maximum and according to observations, top notes generally contain at least 500 characters, but more commonly are in the 900s.
-Hashtags
Instagram gave birth to the hashtag revolution for a reason. Using hashtags will help you categorize the notes and make them more discoverable on the Xiaohongshu platform.
Conclusion
With all that being said, your brand needs to come across as the most authentic entity there is with original content and genuine reviews so that you can make the most out of this platform. Cracking the code on the platform is like entering a secret elite society that will be your ultimate market.
Would You Like To Launch Your Brand On The Little Red App?