A WeChat Account In 2019 Is Now Simplified
Are you a beginner waiting to navigate this exciting world of WeChat in 2019 to reach your Chinese consumers? Look no further than this guide to help you get started with your WeChat adventure. WeChat recently hit a record level of 877 million Chinese daily active users on the platform in 2018.
"I spend about one-third of my daily nine-hour phone time on WeChat," said Li Yuan, a technology columnist in Hong Kong.
The boom of mini program, in-app e-commerce marketing have made it a lucrative platform for marketers to register their accounts on WeChat. International brands like Burberry, Dior, Louis Vuitton have made their inroads in China via WeChat by successfully leveraging the app for targeted marketing to the ocean of an audience in China.
Registering a WeChat Account is simple if you have a CBL (Chinese Business License). This license makes it possible for you to apply under your business name with a Chinese representative. If you are not a registered business in China, there are a series of options that you can take depending on your budget, time frame and your business concept. As WeChat partners, we'd recommend taking the following steps to establish your presence as a business entity on WeChat
Why Should You Read This Article?
We hope to answer most of your queries regarding starting a WeChat account (Business). We will answer questions like:
Why Should I Use A WeChat Official Account For My Business?
What WeChat Account Should I Use For My Business?
How Do I register my WeChat Account?
Can I Get An Official Account If I'm Not A Registered Entity In China?
As A Business, the WeChat Official Account is your gateway to starting out in the WeChat world. There are three types of accounts namely: Subscription Accounts, Service Accounts and WeChat work. WeChat work can also be referred to as Corporate or Enterprise Accounts.
WeChat Subscription Accounts and WeChat Service Accounts allow users to build a relationship and communicate with their customers. WeChat Work accounts are to be used as internal company messengers much like Slack.
This brings us to the next question: Should I use a WeChat Subscription Account For My Business?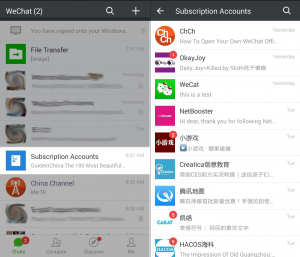 WeChat Subscription accounts are for celebrities or small single individual businesses that need to post a lot of content. Compared to other messaging apps business accounts WeChat Official Accounts have more restrictions designed to stop companies from creating a poor user experience with too many push notifications.
The beauty of the subscription account type is that you can send a mass broadcast once per day. And aside from just messages, you can even post 6 full articles, (blogs in Wechat) as long as you post them all at the same time. The Choice is open.
Should I Use A WeChat Service Account For My Business?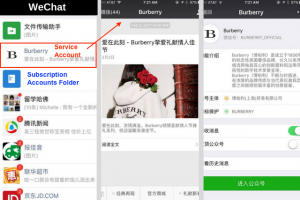 WeChat Service Accounts are for small, medium or even enterprise size businesses. Unlike subscription accounts where you can only post, a WeChat Service Account gives you access to many more sales and service oriented functions. This means you are able to open a WeChat store, add your own Mini Programs (WeChat Apps) and access additional WeChat functions.
After you have identified which account suits your business the best, its time for the next step
WeChat Official Account Verification
In order to register an official account through WeChat's self-service platform, you will need the following:
-A Chinese Id
-A Chinese Mobile Number
-A Chinese Business License
-A Chinese organisation code
The WeChat Public Platform will give you more information for a step by step application. From here on the procedure is simple for Chinese registered businesses, ensure you have a Chinese representative to manage the set up as their id photo and number is required. You will need to wait for a verification and select whether you want to open a service or subscription account.
How Can I register For An Official Account As A Non-Registered Entity In China?
The good news is, YES, companies registered outside of Mainland China can also apply for a WeChat account through the whitelist Account application. This whitelist application will take approximately 2 months to process and the outcome will be a verified service account.
Now that you have answers to your queries, WeChat is waiting for an enterprise like you to hop on to platform and reach out to your choicest set of targeted customers
Reach out to us if you have any more related queries